Story of Maude's Fruit Cake Recipe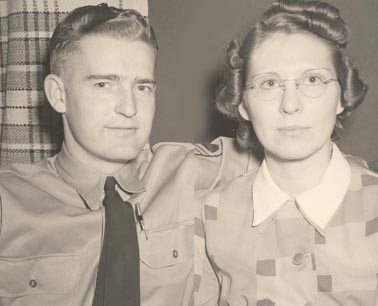 There is no way that he could have known the wonderful fruitcake that was in his future.
Mary Alice
From: Mary Alice Golden
To: B. Spees
Date: Aug 15 2002 - 7:58pm

Bill's view
Maude's Fruit Cake (Maude Spees ca. 1940)
1 lb. Sugar (2¼ cups)
1 lb. Butter
1 lb. Flour (4 cups)
¼ cup Flour (extra, for dredging)
1 tsp Baking Powder
10 Eggs
1 tsp Salt
1 tsp Cinnamon
1 tsp Nutmeg
1 tsp Cloves
1 lb. Dates
1 lb. Currants
½ cup Raisins
½ cup Citron
¼ cup Orange Peel
¼ cup Lemon Peel
¼ cup Candied Pineapple
2 cup Nuts (she meant walnuts, sometimes pecans)
½ cup Candied Whole Cherries
2 tbs Orange Juice
1 jar Maraschino Cherries
Chop fruits and nuts (reserving enough nut halves to cover roughly half of the top of the cake). Dredge the chopped fruits and nuts in ¼ cup of flour.
Cream the shortening and butter; add eggs, one at a time, beating after each egg.
Sift all dry ingredients twice and add to creamed mixture alternating with chopped fruits and nuts, and beat thoroughly.
Add the orange juice.
Line a tube pan with greased aluminum foil. Pour in batter.
Bake at 250° to 300° for four to six hours. Put a pan of water in the bottom of the oven 1 to 2 hours before the cake is done. Decorate the top with the jar of cherries and nut halves, shortly before baking time is over.
Let cake cool.
Soak cake in brandy or wine for about a month. Pour 6 tbs of brandy into cake and wrap closely with cloth dampened in brandy. Store in airtight container.
This cake is one of my fondest memories of Mom. It was dark and rich. She would make it around Thanksgiving and keep it in a big heavy Dutch oven under the bed. When she sent me out to play in the South Dakota winter, she knew that the slice of fruitcake in my pocket would keep me alive till Spring, if I should get lost.
This fruitcake is nothing like the fruitcakes that you buy and give to someone at the holidays—the recipient uses it for a doorstop, and the next year gives it back to you...
When I married on Christmas, this was what I made as the groom's cake. Alas, nothing remained of the cake. The marriage is still working after all these years..