This site contains family pictures of the extended family of Everett Kencheon Spees, Sr, who lived from October 25, 1911, until July 6, 1995. He was the son of Walter L Spees, of Palmersville, TN, and Eliza Perry. His siblings, in order of descending age were brother Herbert, sister Doy, sister Dennis, himself, brother Allen, sister Hazel, brother Lewis.
He was married twice, once to Maude Pearl Rexroat in May, 1931, and to Sarah Davis, in February, 1995. With Maude, he had three children, in order of descending age, Mary Alice (March 1932), Everett Kencheon, Jr (July, 1933), and William Stanton (June, 1946).
He enlisted in the US Army Air Corps in the late 1920s and continued (with a five year break in service) in the service until he retired from the US Air Force as a Lieutenant Colonel, in 1965, with more than thirty years of service.
After retirement, he spent time in the insurance business, and as a legal photographer, investigator, and detective in the Denver, CO, area.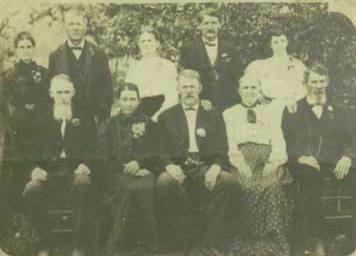 The Kencheon Perry Family, c. 1900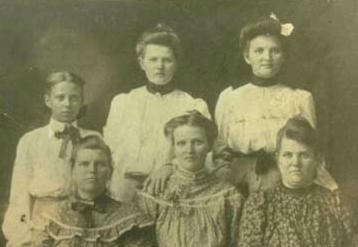 Perry Sisters c. 1900 (including Eliza Perry (Spees) ) who married Walter Spees. This is possibly a premarriage Eliza Perry, Top row, left to right Lena Perry, Eliza Perry, Rebecca Perry. Bottom row left to right are sisters Bran, Ida, and Ada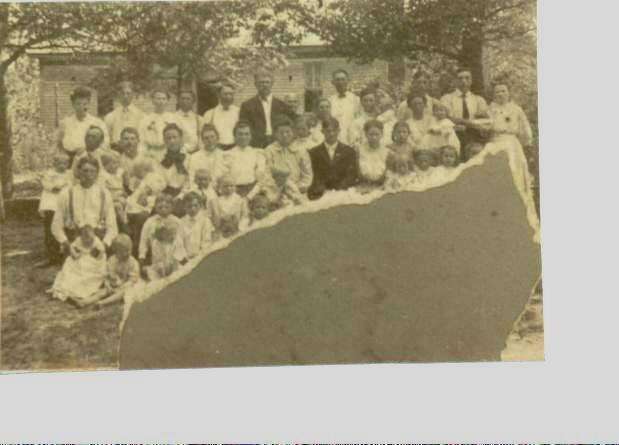 Walter Spees and Eliza Perry at their engagement in 1905 at Palmersville, TN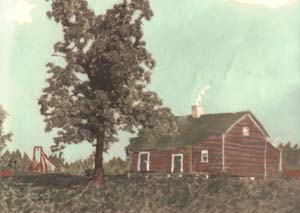 Walter Spees Homestead in Palmersville, TN early 1900s where Everett K Spees, Sr, grew up. He may have made this picture by painting on a photo. He was skilled at doing that.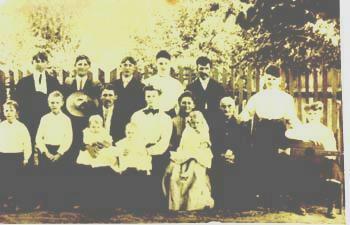 Spees Family around 1910 taken in the yard at the Palmersville, TN Homestead.
Everett Jr. explained this picture: "Now I'll bet you would like to know who everyone is. Fortunately I went over this photo with Dad, and I wrote down the information on the back of the picture.

"From left to right first row: Noble George Spees, Garth Spees, Grandpa Spees holding baby Herb, Grandma Spees holding baby Dennis, Udora "Dora" Catherine Watson Spees holding Aunt Phair, Sarah Jane Spees Schoolfield (our GGGM, whose brother was at deaf school), and Aunt Wanda.

"Back Row left to right: Vernon Spees, Uncle Tom Spees, Uncle Roy Spees, his wife Aunt Bessie., Everett F. Spees (our GGF), and Aunt Eddith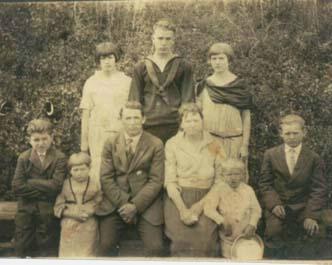 Walter Spees family 1920s
Everett K Spees, Sr, is the little kid on the far right in the unaccustomed suit; on his left is his brother Lewis, then his mother Eliza, father Walter, sister Hazel, and brother Allan
On the back row from left to right are sister Dennis, brother Herb who was home on leave from the U.S. Navy Band where he played saxophone, trumpet, Glockenspiel, clarinet, and sister Doy.
Later, Herb joined the Army Air Corps and enticed Everett to leave high school to join him in the aerial photography section at Chanute FIeld, Illinois, where he met Maude Rexroat (Spees).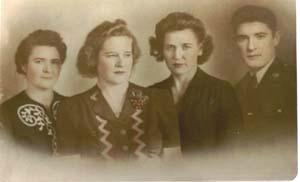 Hazel Spees (Kuhlman), Dennis Spees(French), Doy Spees(?), Lewis Spees
Family picture ca 1942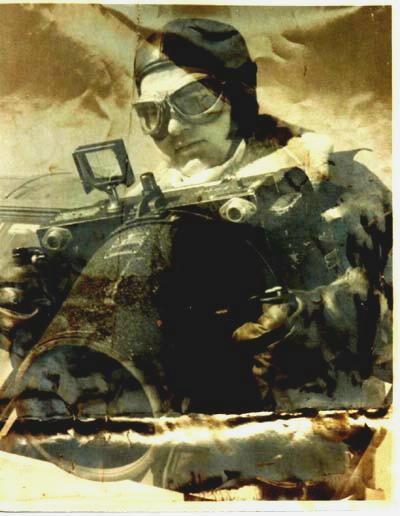 Everett K Spees, Sr, in his aerial photography gear, 1930s. There is an undamaged print of this image in Everett's Story, but it lacks the visual excitement of this one.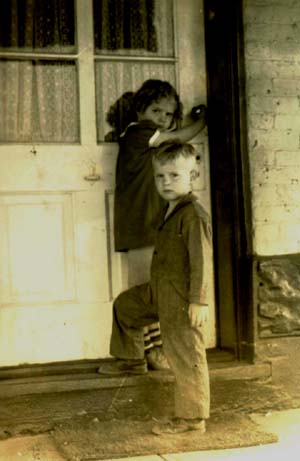 Everett K Spees, Sr, took this picture of his two children (Mary Alice, and Sunny (Everett K Spees, Jr)) at Cottonwood Motel in Aurora, CO. It was still standing, as recently as 2001. When the Army Air Corps transferred him from Chanute FIeld, Ill. to Lowry Field, CO, the family lived in a motel or "cabin" for several months. Since he was a military photographer, he frequently took family photos.
Everett K Spees, Jr, was called Sunny until he started school.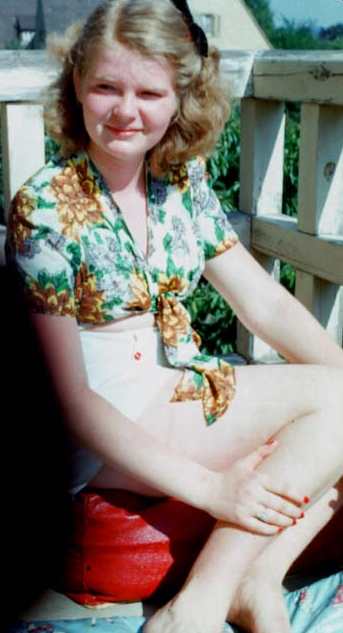 Mary Alice Spees (Golden) as a pretty teenager in Germany, 1947.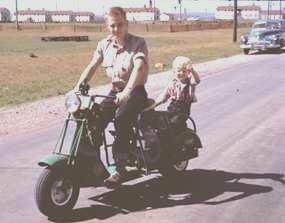 Everett K Spees, Jr, and William S Spees on the JC Higgins scooter, Summer 1950 in Rapid City, SD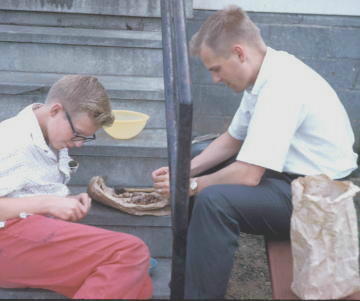 William S Spees and Everett K Spees, Jr, shelling nuts in June, 1959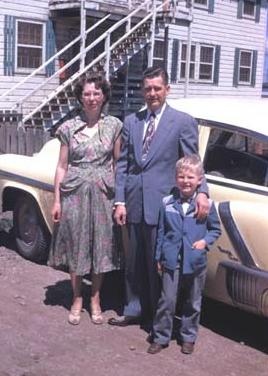 Maude P Spees, Everett K Spees, Sr, and William S Spees, ca. 1953, Rapid City, SD. They lived in the converted barracks in the background, with five other families.

Everett K Spees, Sr, and William S Spees at the Leaning Tower of Pisa, 1957
M. Haydon, the mayor of Rossier en Haye, France, and Maude P Spees clink champagne glasses. In 1956, he had been the mayor for twenty years of more. They considered Everett K Spees, Sr, their adopted son (Mme is profile behind and to the right of Maude.) Their own son was born in the same year as Everett K Spees, Sr, but had died at age twelve.
They had a wonderful formal garden with a palm tree, cactus, and hedge trimmed into a chair and another trimmed into a chicken with a ceramic head. He was the headman of the village of about eighty families; he performed marriages, was the chief of police, the municipal judge, the master of ceremonies for every festival, etc. They had an ancient Opel Kapitan that they only drove twice while we were in France.
The venue of the picture is at the village school, done up with tri-color crepe paper for some saint's day, perhaps. Many were celebrated with these 3pm champagne parties. It is possible that this is the ceremony where Maude and Everett were made honorary citizens of France.
William S Spees is seen in the background, at about age ten.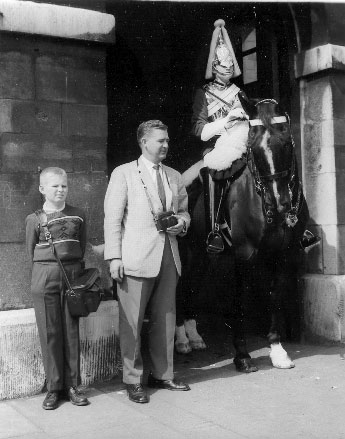 The Queen, it turns out, was not receiving, on the day William and Everett paid her a call.